Don't like Flash? Turn it off.
If you aren't a big fan of Adobe Flash, you can turn it off by visiting your account preferences page and unchecking the appropriate box.
https://surveyorconnect.com/account/preferences
Flash is used to power the ultra-cool file uploader when you are creating a post or reply. However, if you are having trouble with the uploader or just hate Flash, turn it off at the link above.
There had been articles in the news over the years that stated that Flash was prone to hacks through a number of exploits. The articles also said the only real counter to this was to keep on top of the latest patches and updates if you wanted to avoid the vulnerabilities. I think Wired just exploded the common
myths. http://www.wired.com/2015/07/adobe-flash-player-die/
Well, we stay on top of updates regardless. Heck, I run a business wrapped around the idea of keeping websites for clients up-to-date and secure. Here is a shameless plug: http://wpmule.com
You can never be 100% safe due to the gap between discovery and patch, but there's a lot you can do to minimize the risk. This was a HUGE reason why we needed to ditch the old forum software.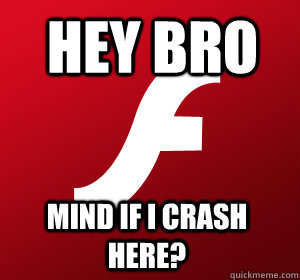 For several years the flash updates conflict with other software and then the other software has to do an update and the cycle has not stopped until now.
Time for some heads to be joined together to fix it or trash it......